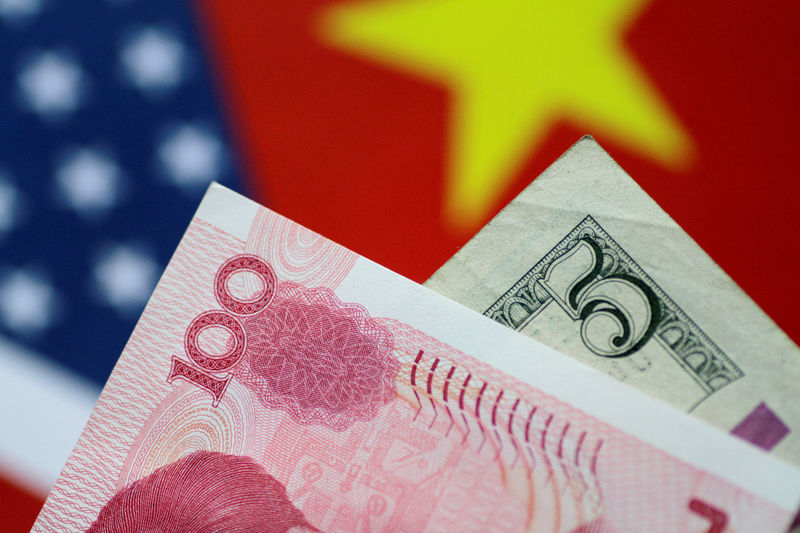 © Reuters. FILE PHOTO: Illustration photo of U.S. Dollar and China Yuan notes
By Vivek Mishra
BENGALURU (Reuters) – China's yuan is expected to weaken slightly over the coming year as renewed hopes of sweeping tax reform in the United States and gradual Federal Reserve rate hikes hand back control to the dollar, a Reuters poll of currency strategists showed.
Having fallen since early January, the dollar index, which measures the greenback against a basket of six major currencies, has rebounded nearly 3 percent after the Fed announced plans in September for its balance sheet reduction.
That has driven expectations for the yuan to surrender some of 2017's gains, according to the latest poll of over 60 foreign exchange analysts taken Nov 6-8.
The Chinese currency, which has gained over 4 percent this year, is now forecast to fall more than 1 percent to 6.72 per dollar in a year from Wednesday's level of around 6.63. That is similar to predictions made last month.
But those expectations are largely dependent on a strong dollar, which is not at all certain. Any support for the greenback hinges mainly on Congress passing major tax reform, the Reuters poll of major currencies found.
"The yuan experienced a rapid appreciation in September, but it is not what the People's Bank of China (PBoC) wishes to see," said Li Yishuang, FX analyst at China Securities in Beijing.
"So, I think two-way movements of the exchange rate will become more obvious in the next year, and it will depend in great part on the movement of the U.S. dollar index."
The central bank's decision in September to remove a reserve requirement on FX trading on financial institutions is also slowing the pace of yuan appreciation.
Since then, the PBoC allowed the yuan to fall by on Sept. 11 setting a 2 percent lower mid-point reference rate of 6.4997 and on Wednesday lowered it again to 6.6277 per dollar.
"The PBoC will keep managing the currency via the daily USD/CNY fix, using the counter-cyclical factor to guide the market if the currency deviates from fundamentals," noted Irene Cheung, senior strategist for Asia at ANZ.
"We expect the central bank to continue to stay away from official intervention."
While China is expected to be one of the fastest-growing major global economies in a separate Reuters poll, the latest predictions pointed to slower growth next year compared to 2017. http://tmsnrt.rs/2e7JFpt
That could play an important role in yuan movements over the coming year.
"We expect CNY to slightly depreciate again over the coming quarters against the U.S. dollar, due to weaker growth prospects for the Chinese economy," wrote Hao Zhou, EM strategist at Commerzbank (DE:CBKG), in a note to clients.
India's rupee, which has gained over 4 percent this year, is expected to trade in a tight range against the dollar over the coming 12 months.
Median forecasts showed the rupee trading at 65.15 per dollar in a year, not far from the 64.98 it was at on Wednesday.
"We see a tug of war between the U.S. dollar and the Reserve Bank of India's compulsion to recoup FX reserves in the coming year," said Indranil Sengupta, India chief economist at Bank of America Merrill Lynch (NYSE:BAC).
(Polling by Shaloo Shrivastava and Khushboo Mittal; Editing by Sam Holmes)
sponsoredArticle = 'div-gpt-ad-1466339494851-0';