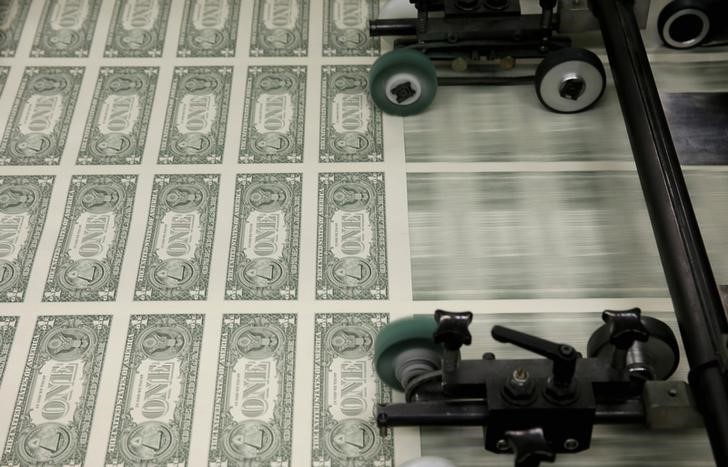 © Reuters. Dollar holds steady against other majors amid U.S. political concerns
Investing.com – The dollar was little changed at one-week lows against other major currencies on Friday, as concerns over the fate of a highly-anticipated U.S. tax reform bill weighed on the greenback.
The dollar came under pressure following news that the U.S. Senate Republicans' bill tax overhaul would delay implementation until 2019.
Like their House counterparts' version, the Senate's proposal would cut the corporate tax rate to 20% from 35%.
In addition, both bills would add $1.5 trillion over 10 years to the U.S. budget deficit and national debt.
The U.S. dollar index, which measures the greenback's strength against a trade-weighted basket of six major currencies, was steady at 94.44 by 02:15 a.m. ET (06:15 GMT).
EUR/USD held steady at 1.1641, while GBP/USD edged down 0.11% to trade at 1.3131 as a fresh round of Brexit negotiations resumed.
Writing in the Daily Telegraph on Thursday, U.K. Prime Minister Theresa May warned that she will not "tolerate" any attempt to block Brexit and set out the specific hour the UK will leave the EU.
She said that "11pm GMT on 29 March 2019" is "there in black and white" in an amendment to the EU Withdrawal Bill.
Elsewhere, USD/JPY was almost unchanged at 113.49, while USD/CHF rose 0.20% to 0.9948.
The Australian dollar was higher, with AUD/USD up 0.09% at 0.7686, while NZD/USD slipping 0.10% to 0.6939.
Earlier Friday, in its quarterly monetary policy statement, the Reserve Bank of Australia downwardly revised growth expectations for December 2017 to 2.5% from 2 to 3% in the previous forecast issued in August.
However, the RBA said it expects the economy to expand at "a solid pace" over the next few years, citing positive labour market developments.
Meanwhile, USD/CAD held steady at 1.2676.
sponsoredArticle = 'div-gpt-ad-1466339494851-0';